From Chevellestuff.com.
"It is a proven fact that for 1969 the series/model designation is a trim level and not an indication of the engine type installed in the vehicle as Fisher Body didn't care what engine type was to be installed.
One 1969 documented example is an Atlanta built 13427 300 2-Door Sedan trim tag style and a VIN of 13327
."
So what do we have here?? I bought this as a roller and have the following information: It IS a Canada car per the cowl tag. So what gives with the rest of it? It is currently yellow with "SS396" emblems on the rear center below the trunk. I doubt it is really but ?????
Here's what I make of the tag and VIN. Can you correct me if I'm wrong and help with deciphering what this might be?
(The following codes are from Chevellestuff.com)
From the Cowl Tag:
Interior: 786 - Medium Green Ransom Cloth, Coated Fabric
Series/Model - 13637-39-69
Paint: 5959 Frost Green (solid color entire car)
VIN: 1332791328713
1 - Chevy
33 - 300 Deluxe, Chevelle, El Camino, 6-cylinder
27 - ????? (37=2 door sport coupe)
9 - 1969
1 - Oshawa, Ontario, Canada
328713 - production number
And what are the other codes?
5EC60M?
5E - May ???
C60 - A/C??
M?2 - (Looks like M22 I think)
Here's the tag: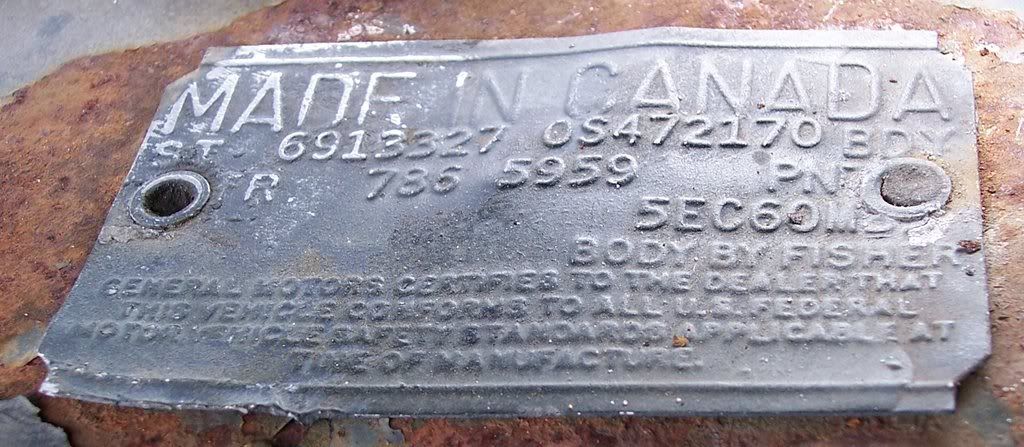 And the car: