I have seen a lot of posts about Quickjacks and have always said there are better alternatives to a quickjack. IMO the scissor lift is a better lift than a Quickjack plus they are comparatively priced.The Scissor lift's are usually priced about $1400 to $2000 while the quickjacks are $1099-$1400
So here is
what I think would be a better lift for the home owner who can't get a full size lift in his garage instead of a quickjack.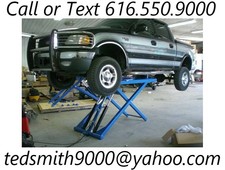 Find great deals for New Titan 6,000 lbs. Mid-Rise Scissor Lift w/Free Truck Adapters, 110V, 60" High. Shop with confidence on eBay!
So what's your pro's and con's ? what's your opinion of one versus the other ?