I'm very happy with these: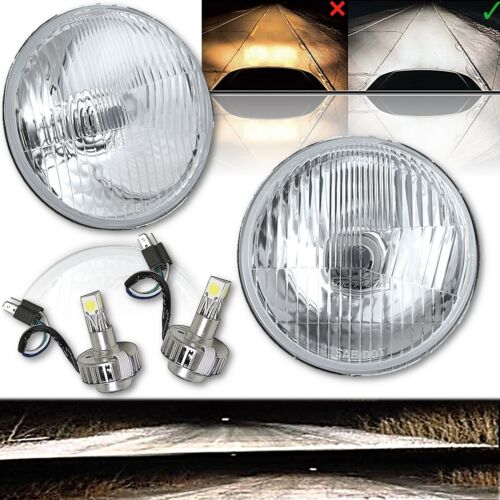 Find many great new & used options and get the best deals for 5-3/4 Stock Glass / Metal Headlight 6k LED HID H4 Light Lamp Bulb Headlamp Pair at the best online prices at eBay! Free shipping for many products!
There is a newer generation that's supposed to be a little brighter and is a little more expensive. Mine, however, are already super bright and a huge upgrade even over the Halogen bulbs with relays installed.
You do have to take the time to aim them carefully. If they're pointed too low they'll be ineffective but if they're too high not only will they be ineffective but they'll also blind oncoming cars. The sweet spot is narrow but well worth the effort to find.
I didn't bother replacing the high beams as these LED's do the trick and I rarely use the high beams anyway. If you do buy and install them, be sure to use the rubber boots that shield the LED's from water. It's a little tricky getting them on but tech support can guide you if you need help. I say this as many reviewers on Youtube tossed the rubber boots which is a very bad idea.
Good luck! I love mine and now I can drive after dark without white knuckles.