Thought I'd post this since there seems to be a number of postings revolving around the headlight switch and it's functions...
The pictures are typical of the 1968-1972 units.
1964-1967 units have an extra connector by the blue headlights power output wire--it's a purple wire--this is the output for the front parking lights ONLY.
1964-1967 models have front parking lights which turn OFF when the headlights are turned ON. To change this, so the front parking lights stay ON with the headlamps (like 1968+ models), you can carefully remove the terminal connector corresponding with the purple wire and relocate it in the "unused slot" position and use a 1968+ headlight switch.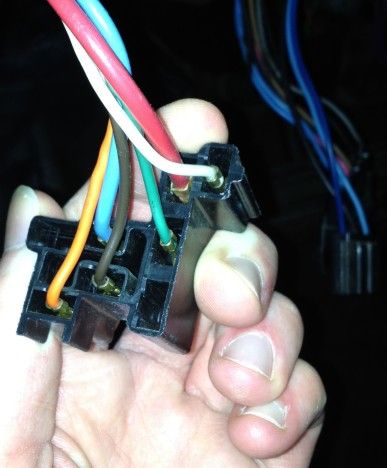 .
.
.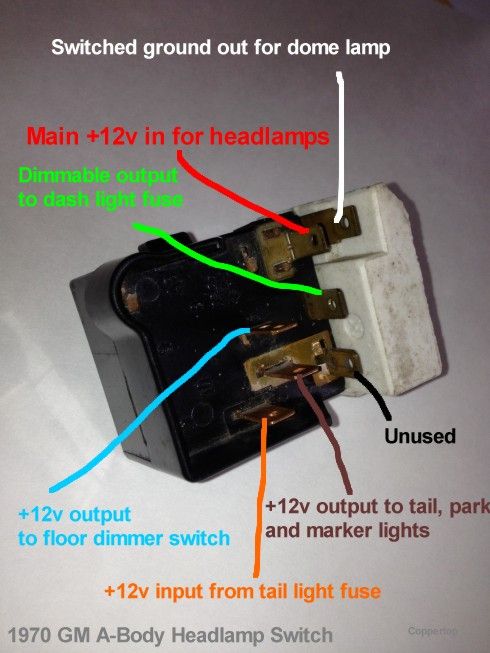 .
.
The headlight switch receives power input from two different sources. The red wire provides the feed -just- for headlights themselves. Protection for the headlight output is provided by a thermal circuit breaker inside the switch the itself. Pulling the switch out to the second position links the red wire to the blue output wire. The blue wire sends power down to the floor mounted dimmer switch which directs power to either the high beam or low beam circuits in the headlights.
The orange wire provides power for everything but the headlights themselves. The orange wire originates from the fuse box's Tail Light Fuse. When the switch is pulled out to the first or the second position it links the orange power wire to the brown wire (output power for the tail lights, parking and marker lights). The orange wire is also linked to the rheostat (dash light dimmer). Depending on how far the headlight knob is rotated, the voltage output is varied and sent out the green wire. The green wire is sent back down to the fuse box where it is connected to the Instrument Lamps Fuse. This fuse protects the dash lights which tie into the gray wire leaving this fuse.
Lastly, the white wire provides an additional ground connection to the dome/courtesy light circuit. By fully rotating the headlight switch (regardless if the switch is even on), a cam attached to rheostat wiper causes a contact to touch the frame of the switch. If the switch is attached to the dash properly with its ground strap in place, this ground is transferred to the white wire and thus the dome light/courtesy lights turn on.