Discussion Starter
·
#1
·
About a month ago my house was broken into and about 4 grand worth of electronics were stolen. Then today I get a frantic call from my sister whose freaking out wanting to kow if I'm ok. Seems my neighbor called her a said the police were everywhere at my house. I assured her I was at work and just fine but maybe the cops caught someone breaking into the house. So we decided to meet there and find out what happened.
As I started down the big hill above the house, sure enough, down on the corner at my house blue lights seemed to be everywhere. As I got closer I could see black marks curving right into my front yard!!!! Then tracks in the yard, then the fence and shrubery almost all gone where a Chevy truck had bulldozed through and ended up across the street down an embankment into another neighbors yard!!!!
A jogger who was running up the hill was almost hit and she was the one who called the law. My beloved old dog got loose but one of the cops retrieved her. What a day! The driver ran and the lawmen said there were keys in the ignition so they weren't buying any story it was stollen. They found insurance paperwork in the truck and I was able to file a claim but who knows how that will turn out!
The truck did actually hit the house but the yard took the most damage.
It all started here
into the yard and then the ditch on the other side of the road
ARRRGH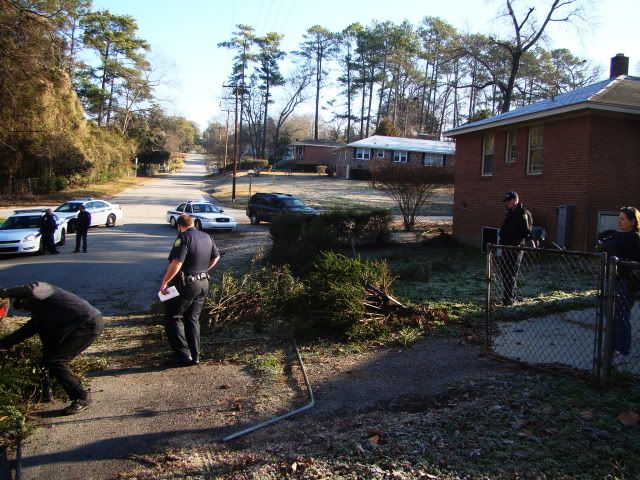 http://i76.photobucket.com/albums/j36/bigjames4xl/incident/DSC02282.jpg
http://i76.photobucket.com/albums/j36/bigjames4xl/incident/DSC02286.jpg
http://i76.photobucket.com/albums/j36/bigjames4xl/incident/DSC02292.jpg