Hey Guys, I joined the site at the beginning of the year and figured I'd finally post up a build thread of my 70 Chevelle project. Heres a little background history - Over this past fall I bought this Chevelle Malibu "project" from a buddy of mine, and overall its in really good shape for being a northeast car. The interior has been totally re-done ( I just need to re-install it all, and add a few new details to make it "mine"). I've already stripped the body of the previous owners paint job, and I'm just waiting until I'm 100% happy with the bodywork to lay down some paint .
For a powerplant and drivetrain its now got a Supercharged 468 big block, Muncie 4 speed tranny, and 12 bolt posi rear end. I've built multiple cars and lifted trucks in the past, and all the rebuild work minus the paintjob will be done in my garage. The plans for this car are simple, I'm looking to build a streetable, pump gas "Pro-Street" play toy that is plenty capable of going on long road trips, yet be just as at home at the local cruize night, or occasional trip to the dragstrip just for fun ( not looking to build a crazy 1000 hp 8 second car).
Heres the night I brought it home from my buddys house, as it had sat in his garage untouched for a few years....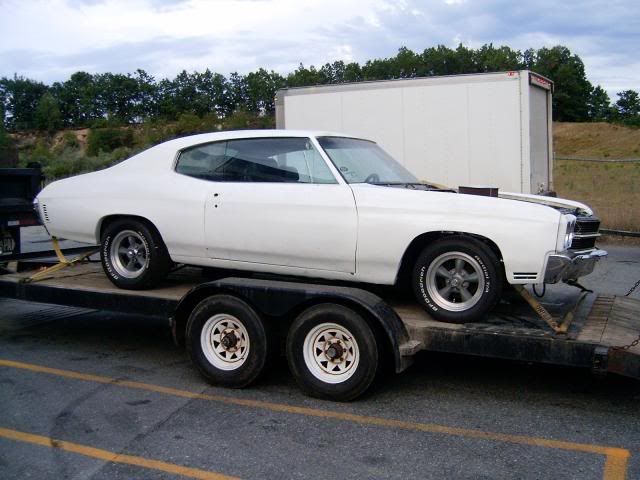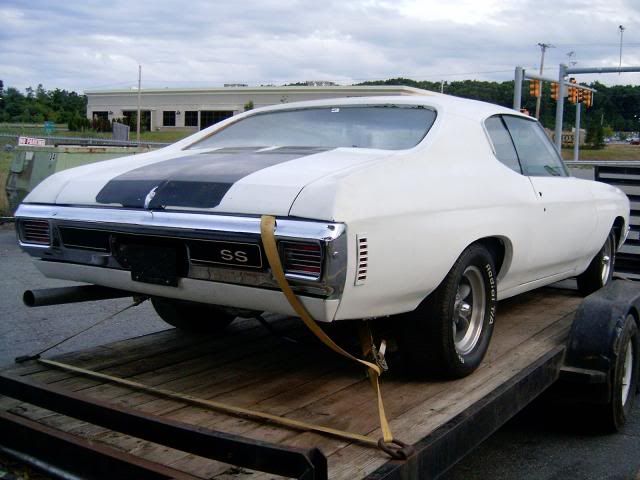 And heres the "Before" picture of the motor the day I bought the car.
Then came the long hours of tearing everything down on the front end and then pulling out the motor and tranny, as well as starting to do some bodywork.
The motor was completely rebuilt before I purchased the car from my friend, I just pulled it and the transmission out, gave them both a real good once over and then layed down some fresh paint and started bolting up new components. Its got an 8.5-1 compression ratio which will be perfect for what I have in store for this ride.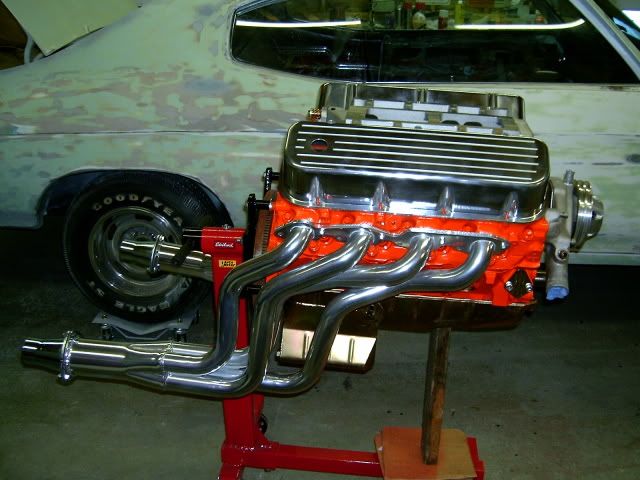 I finally got the motor back in the car and everything else mostly mocked up, also went ahead and installed a new stainless tank and fuel lines along with setting up the Holley electric fuel pump.
I also wanted to run a different blower scoop than most people have, so after searching around for a long while (and saving up ALOT of pennys ) I contacted Alan at "Garlits Performance Products" over the pond in Auckland New Zealand, and told him exactly what I wanted my bug catcher to look like, and he then custom built me this stunning polished scoop. The blower is a simple Weiand 6-71. ( I still have to get another set of new blower referenced carbs..)
Here is everything mocked back up in the car... ( picture dosen't show them, but I've already installed the correct blower snout pulley spacer and idler pulley setup, to correct the belt spacing issue from switching the supercharger from a small block to its new big block home).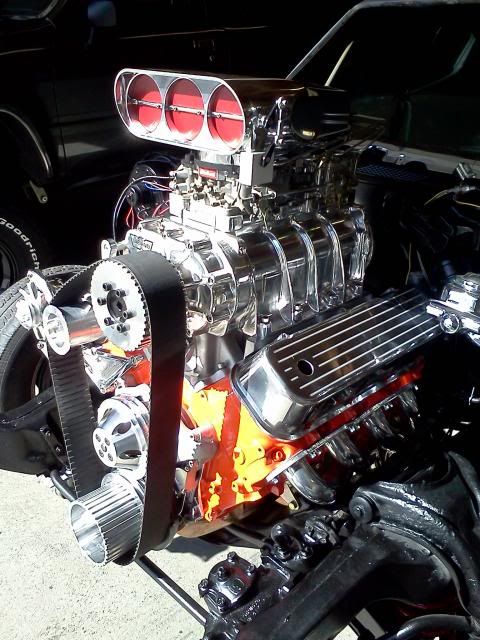 Still got a LONG ways to go, but I'm at least happy to see it at this stage..!! More to come soon.