1969 Yenko Chevelle 4 Speed
Presented by Nickey, with a backwards "K"
"The Original Super Car Headquarters!"
Here we have another extraordinary Yenko Chevelle. This a top tier collectible, on anyones list.
It routinely makes the top 10 fastest factory produced Chevy Cars List as well.
We have offered other quality Yenko Chevelles for sale and this one is also without a doubt, one of the the finest Yenko Chevelles in the world.
It was actually "over restored" to the owners specifications. We have corrected a few items, but have decided to leave the Yenko, mostly as is.
Yenko Sports Cars, Inc. produced approx, 99 L72 427çi 450hp COPO 9562 Chevelles in 1969.
Less than 1/2 are found and accounted for, and only a fraction of those are the Ultra desirable 4 speed, M21 manual transmission versions.
This makes Yenko Chevelles much more rare than even the revered 1969 Yenko Super Camaros!
This particular Yenko also features a second COPO suspension Option, the 9737 COPO option, better known as the" Yenko Sports Car Conversion Option," making this Chevelle a "Double" COPO.
This Chevelle also features one of the most unique and stunning Yenko Color options, Garnet Red on a Black bucket seat interior with White stripes. At last count only three have been found in this Color/Combination.
The restoration started with an extremely original and sound Yenko Chevelle.
Prestigious publications such as the 'Robb Report' have written about the prominence and collectiblity of Yenko Chevelles.
This special Yenko was recently acquired from a very prominent Super Car collection, where it has received nothing but the best care. It has been driven very sparingly.
In 1992 this Yenko was on the Cover and a Feature car in 'Muscle Cars of the 1960s-70s' where a history of this and other Yenkos is chronicled in detail.
It also has an original Chevrolet Broadcast Sheet.
It features the correct Yenko option Stewart Warner 8,000rpm Tachometer and a set of optional, original style, five spoke American Racing wheels which ride on Goodyear Wide Tread GT E70X15 tires.
This Yenko is only for the most discriminating Collector, enthusiast or Museum.
$325,000.00 us
This car is fully Documented by its chain of owner ship. It is also listed on the Yenko inventory sheets and has been verified by Vince Emme, good Friend of the late Don Yenko and a noted Yenko historian.
The original Vince Emme verification letter is dated
and notarized in 1991.
I will not email copies of the inventory sheets or other docs so please no document collectors.
We are very familiar with current Market Value of these Yenko Chevelles and sold the last 4 speed, to change hands prior to this one at the Russo and Steele Auction in Arizona, this past January.
It seems that the "market" holds a substantial premium on the 4 speed Super Cars, similar to High End, Muscle Car, 4 speed Convertibles.
The Nickey Chicago Mega Speed Shop is back in business.
Call 630-377-1222 for all your Hi-Performance Needs
Thanks for the adv. space Team Chevelle.
Asking Price:
$325,000.00
Condition:
Excellent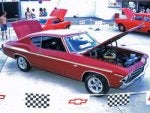 City:
St .Charles
State:
IL
Displayed Email:
[email protected]
Phone:
630-377-1222
Link:
http://www.nickeychicago.net/vehicle.php?id=155