Tech Team
Todd
Join Date: Feb 2004
Location: Central Valley, CA
Posts: 345
Z16 ebay
---
Says it's real.............
Jeff, what do you say?
https://www.ebay.com/itm/1965-Chevro...%7C1000%7C2500
---
_____________________
Todd

To view links or images in signatures your post count must be 0 or greater. You currently have 0 posts.


Tech Team
Join Date: Mar 2017
Location: n.w.iowa
Posts: 357
Re: Z16 ebay
---
in another thread he says it is the real deal.man it was 25k like 2 days ago.
Lifetime Premium Member
Join Date: Sep 2002
Location: St. Joseph , Missouri
Posts: 239
Re: Z16 ebay
---
Think it was on face book marketplace , but he wants 125,000 for it .
JC
Join Date: Feb 2019
Location: On the banks of the mighty Nanticoke
Posts: 4
Re: Z16 ebay
---
The current owner is an older fellow, and somewhat eccentric; I know the guy who listed it and he is straight up.
He is pretty good about answering the phone, for more info.
Data and serial number plates seem unmolested.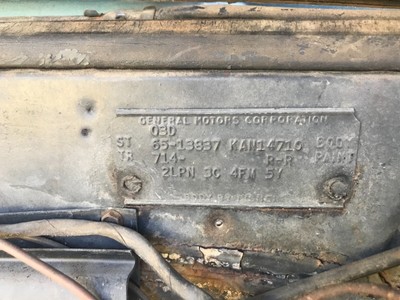 Gold Member
Gene
Join Date: Sep 2000
Location: Buffalo NY
Posts: 14,423
Re: Z16 ebay
---
Dang, I'd hate to know what the cost of restoring it to its 125K+ estimated value would be.
---
Gene
ACES 3112/Team Chevelle Gold #62
Be big, be a 'builder'!
JC
Join Date: Feb 2019
Location: On the banks of the mighty Nanticoke
Posts: 4
Re: Z16 ebay
---
Last two auction results I could find in a quick search at Meecum and B-J were $240 & $280K
I've always thought it costs about the same to hang a quarter on a Chevelle and a Checker, one might be worth a bit more than the other when you're done
Most shops charge an hourly rate as opposed to a percentage of value
Mr. Helms is aware of this car, and keep in mind the lister on eBay does not own the car, it belongs to a life-long friend