Tech Team
Marty
Join Date: Jan 2008
Location: Virden,IL
Posts: 480
Has anybody used Flowmaster 3" tailpipes?
---
I found these pre-made tails and I wondered if anybody can give me some insight on how they fit, where the pipe exits(pics?), and how it sound's with a flowmaster muff. I love the sound of flow's with dumps, but I haven't heard them through a 3" tail. If somebody had a video it would be great.
If the fit for 3" isn't great, would 2.5" be better? Here are the links to the pipes.
3" Tails
2.5" Tails
Thanks, Marty
Lifetime Premium Member
Mike
Join Date: May 2006
Location: Kapaa Kauai Hawaii
Posts: 8,708
Re: Has anybody used Flowmaster 3" tailpipes?
---
I just put FM 3" tails on my 70 they are two piece and need to be wiggled jiggled and finessed pay attention to tire clearance before you lock them up. The last foot or so has a slight bend downward that I could have done without and I put Pypes SS extensions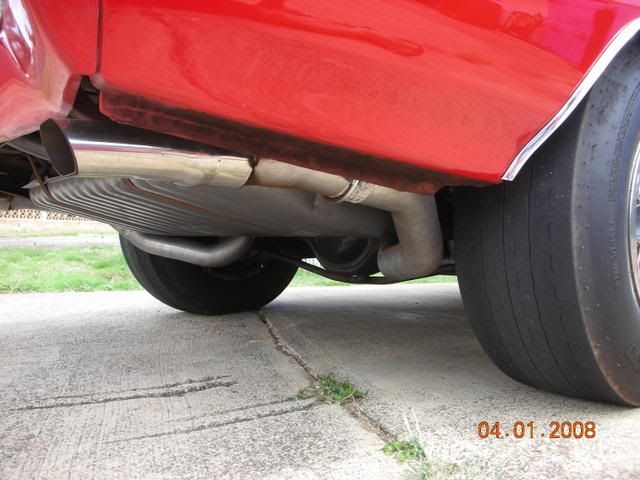 ---
YOU KNOW YOU HAVE THE POWER..... AND IF YOU USE THAT POWER BAD THINGS ARE GOING TO HAPPEN!!
Mike Lewis street 572
http://www.lewisracingengines.com/
Holley HP EFI
Marcella Manifolds
Heads by Darin Morgan
Wires from Rick@Firecore
www.firecore50.com/
Cam by UDHarold
.456 X 1.8/1.7
Menscer Motorsports
http://menscerms.com/
R2C Filters
www.r2cperformance.com
Ultra Carbon
www.ultra-carbon.com/
GF-5R,
http://trzmotorsports.com/wp2/
TRZ FAB 9" 4.56 REM, Cryo Treated
4000 lb street car
My Showroom
Tech Team
Chris
Join Date: Apr 2006
Location: Just West of Davenport, Iowa
Posts: 732
Re: Has anybody used Flowmaster 3" tailpipes?
---
Here is a link to consider. Not the cheapest. But very nice stuff. Take a look at some of the pics. They offer 2 styles of tail pipes. Stright out the back under the bumper. Or the tucked up style with angled ends that hide the pipes but allow just the tip to stick down to clear the panel under the bumper ( Valance? Spell check me Joe from PA.) lol I preffer the tucked up style with angled ends at the exit. Looks factory. Here is the link to the GM page 2.5,3.0,and 3.5 inch exhaust kits with prices:
http://www.torquetechexh.com/gmaheader.htm
Hope this helps.
---
http://www.cardomain.com/ride/2923126/1
1970 Chevelle SS replica ( Its what I can afford )
Shooting for 10's on pump gas. Most likely will run 11's
Dont lift till you see God.