Brandon
Join Date: Aug 2010
Location: Lake Tahoe, Nv
Posts: 8
Doug Nash 4+1
---
Newb here
- I recently aquired a 71 Chevelle and am trying to slowly build it the way I want it for street/strip (weekend only driver) - It currently is a 377 sbc, Th350 auto car.
I initially wanted to swap in a 700r4 for the OD but a friend recently called (owns a machine shop) and they have a Doug Nash 4+1 (85-87 vintage) with new bellhousing, new clutch, new flywheel, new reduction starter but it MAY need a rebuild. It does not include a shifter. It was pulled from a 68 camaro.....my cost $800. I also have to add the cost of the pedal and clutch kit, driveline work, etc.
I have researched a lot about the Doug Nash and know it was basically the father to the richmond 5 speed and a close relative to the G-force tranny. I also read that it's shifting characteristics were not viewed as great by many with the common complaint being hard shifting. I would love to have a manual car but I don't want to regret the swap. It also looks appealing that I won't have to spend 3-5k on a new tranny with "kit".
Long winded I know but I'll get to the point. Can I get a rebuild kit for it still and is there a rebuild kit out there that "upgrades" the synchros, etc. to make it a smoother, better shifitng tranny? Anyone out there running one and LOVE it?
Or should I stick with my original idea of a 700r4?
Lifetime Premium Member
Jody
Join Date: May 2005
Location: Reading, PA
Posts: 2,099
Re: Doug Nash 4+1
---
That would be a steal for $800.00. Parts are still available and a lot of upgrades can be used too. There are a lot of ST10 parts that cross reference and some Ford ZF stuff.

I have a 4+1 Hurst shifter somewhere in my stash for cheap if you buy the trans.
Brandon
Join Date: Aug 2010
Location: Lake Tahoe, Nv
Posts: 8
Re: Doug Nash 4+1
---
Thanx for the response - from reading your other posts regarding the Nash 5 speeds, I think using a Long h pattern would be the best choice
Senior Tech Team
Join Date: Dec 2004
Location: woodbine, md
Posts: 6,782
Re: Doug Nash 4+1
---
do you want a stick or automatic?
the Nash/Richmond makes up the low gears in the trans, 5th is 1-1, the 700R is an overdrive
so you have to look at what rear gears you want, or need to change
i had a Nash many years ago, ran something like 3.08-3.31's cant remember
they had a street and race version, i think the race vs. was a mag. case
---
when your credit cards are maxed, have the limits raised
Lifetime Premium Member
Guy
Join Date: Dec 2006
Location: Nova Scotia Canada
Posts: 2,095
Re: Doug Nash 4+1
---
I've been using a DN 4 + 1 5 speed for 9 years now in my Monte SS and I love it !! Yes,it does shift a bit hard,but you get used to it after a while.Mine has been rebuilt,its hard to get parts from Richmond here in Canada,so all my parts come from Brian at S K Performance in Long Island NY.And if you gear it right,its almost like having an OD.I'm running a 3.0:1 rear gear and with the 3.28 first gear,its the mathamtatical equivalant of a 4.1:0 in first gear,and it cruises at 25-2600 rpm on the highway at the speed limit,which is ideal for my engine.One thing I have learnt is that if there is any play in the shifter rods,it will lock up in gear when shifting.
Guy
---
'86 Monte SS,
513 Stroker,
AFR CNC'd 315 heads,
Custom Bullet solid roller,.706, 285/293-255/263 @ .050,110 LSA,UDHarold's lobes.
Isky .904 EZX Roll lifters,
Thanks to Mike "Wolfplace" Lewis,
Weiand Stealth intake,ported & gasket matched,
825 Mighty Demon,tuned by jmarkaudio,
2 inch Hooker Headers,(Coated),
Doug Nash 4+1 5 speed,w/a couple of cryo treated gears,
9 inch rearend,
Hurst Vertical Gate II In Line Shifter,
TC Member # 4921
Lifetime Premium Member
Jody
Join Date: May 2005
Location: Reading, PA
Posts: 2,099
Re: Doug Nash 4+1
---
Quote:
Thanx for the response - from reading your other posts regarding the Nash 5 speeds, I think using a Long h pattern would be the best choice
Yes, Long's shifter is by far the best you can buy for the 4+1. But, there is a price to pay for quality, you can expect to pay at least $500.00 for the Long Machine shifter.
Lifetime Premium Member
Tony
Join Date: Apr 1999
Location: Folsom, CA
Posts: 15,323
Re: Doug Nash 4+1
---
I ran the Richmond version with a Long Shifter, and I loved it... I didn't have any issues with the trans seeming to shift hard, but I was used to a Muncie... I think they might be harder to shift that a new modern (internal rail) transmission, but not really hard at all...

I was building a new rearend, so I opted for a set od (GM used) 2.73 on a 2-series posi I picked up on Ebay... Mine had the 3.04:1 first ( Road Race version), and it was a fun transmission... And an easy swap...
---
Once you go RAT, you never go back...
TC #1366
'70 Chevelle
427 Stroker
'66 Convertible
Sold
Dual Quad 396
&
Conv Int
'66 SS L78
Senior Tech Team
Tom
Join Date: Sep 1998
Location: Mustang, OK USA
Posts: 11,512
Re: Doug Nash 4+1
---
Doug Nash was in financial trouble, and Richmond bought the tranny/design-------for all practical purposes, the LATER D-
N 4+1 and the R5sp are the same-----------only the logo cast on the tail housings are different.
I have a Richmond 5sp in the Cutlass behind an Olds 455 with a Hurst shifter. And YES, when cold, the R5sp is kind of stiff. Once it is warmed up, as well as in the warmer months, it is fine. EVERYTHING I have, except the Cutlass, has a M20 Muncie. The Muncies always shift smooth and easy. The Richmond has a much more positive feel when going into gear (sometimes there is doubt if a Muncie is fully engaged, but you KNOW FOR SURE when the Richmond is engaged!). The regular Richmond Street 5sp has a 3.27 1st gear, which is GREAT for high geared rears (such as a 2.73, 3.08, etc). But for a car with a 3.70 or 4.11 rear, that 3.27 1st gear is almost like a truck in granny gear. My Cutlass has its original 2.41 posi rear and the R5sp is a perfect combination with it.
Also, as I understand, the Long MAY be a better shifte than the Hurst, but I have ZERO grief with the Hurst on my R5sp. If you have an opportunity to get a Hurst 5sp shifter at a bargain basement price, I'D JUMP ON IT!!!!! And, with that in mind, when I bought my R5sp and Hurst shifter, I also ordered the real long shifter handle (I just kind of like that NASCAR shifter look
).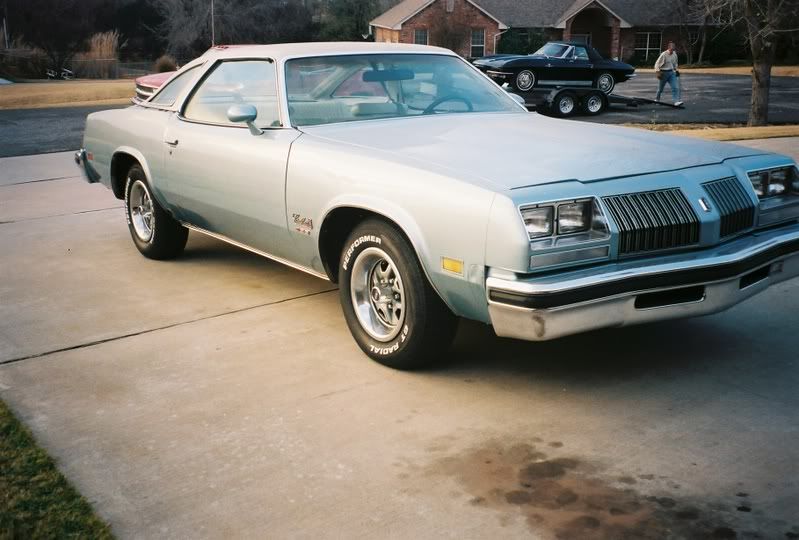 ---
Tom Parsons
TC# 474
#3 FOREVER!!!!!
Light travels faster than sound. That is why some people appear to be bright until you hear them speak. (unknown)
Gold Member
Gene
Join Date: Sep 2000
Location: Buffalo NY
Posts: 11,349
Re: Doug Nash 4+1
---
Yup, I'm back to the ultra-smooth shifting M20, and while the shifting was hard and notchy as compared to a Munice, everything is as compared to a Muncie.

Miss that 11:1 1st gear ratio! For sure! And my ride will never cross the 1/4 mi stripe at 6750 rpms anymore, unless I stick 4.33s in the azz end!

Nash will sit approx 1.5" back from the Muncie mount. The only area in the tunnel I had to heat and ball peen slightly was where the forward shift rod liked to hit the floor when you banged 4th gear. Otherwise, easy swap.
---
Gene
ACES 3112/Team Chevelle Gold #62
Be big, be a 'builder'!
Tech Team
FRANK
Join Date: Jun 2009
Location: TARPON SPRINGS FLORIDA
Posts: 275
Re: Doug Nash 4+1
---
I have a 4+1 behind my 509 along with a super shifter with 4:11 and 33-22-15 and love it.