Tech Team
That Man
Join Date: Jun 2010
Location: Oakland, CA
Posts: 50
Re: Differences Between 291, 461 and 462 Heads
---
All of the research that I done, led me to believe that the "461X" heads were used on the Corvettes with fuel injection. This is what I gathered from info researched on the old school double-hump heads. The 461 and 462 were slightly different, as mentioned above a few times. My first "budget" 350 had a set of home-ported 462's on it and it made decent power and a gang of torque. If torque is the OP main objective, the intake runner sizes of the 461, 462, 291, and 461X should make great torque due to the high-velocity ports that these heads offer. If all out HP is desired, then there are better choices for the 383 than these heads and the camshaft that you have chosen.
Usually, builders that do 383's are looking for tire-frying torque output. The 270 cam should work good with those heads. Keep in mind that for what-ever reason, small combustion chambers (461, 462, 291, 186 and 492 heads) tend to work more efficiently with a dished piston, as far as flame travel is concerned.
Good luck with the build...
Tech Team
Scott
Join Date: Aug 2006
Location: Cleveland,Ohio
Posts: 172
Re: Differences Between 291, 461 and 462 Heads
---
I'm currently running the 462 heads with the magnum 280 cam with 4.56 gears in a 10 bolt rear end and a turbo 400 trans. I cleaned up the ports which are 64cc and matched the intake runners to the intake. It's a 283 with a holley 650 dbl/pump carb. This engine runs very strong in a 72 chevelle with 275/60/15 tires and tears them up without any problem. The heads are good heads for this motor, but for a 383 they will work ok it just depends on what you want.
Scott
Senior Tech Team
Tom
Join Date: Sep 1998
Location: Mustang, OK USA
Posts: 11,509
Re: Differences Between 291, 461 and 462 Heads
---
There is no question that the 461-291 heads from the 60s hi-perf engines were old school. BUUUUUUUUUUUUUUUT, with careful re-work, they can, and will, make very good heads!!!!
USUALLY, there is plenty of metal to permit opening up the intake runners several cc's, and the REALLY good old time head gurus can shape them to be very efficient for serious performance.
For a street-performance engine, simply cleaning up the bowls, opening the seats up for 2.02/1.6 valves (on heads that were originally 1.94/1.5), and cleaning up and matching the intake runners/ports will go a long way to make these "old school" heads into good performance heads.
All of the above, WITHOUT doing a full blown port and polish, can be done at a fairly reasonable price and the results will be respectable.
I have a SB400 in my 56 Vette with 462 heads that have had a few "tricks" performed on them to produce an appearance of a REAL early head that performs well.
I carefully ground off the double humps and re-shaped a pyramid symbol on the ends to make them look like 57 power-pac heads. Then, I had extra bosses welded, drilled and tapped to permit installing early valve covers with the staggered bolt pattern.
This really produces an old school look!
ANY head, 69-later or aftermarket, will have threaded holes and flat machined surfaces on the ends of the heads which will be a dead giveaway that they are NOT early heads.
---
Tom Parsons
TC# 474
#3 FOREVER!!!!!
Light travels faster than sound. That is why some people appear to be bright until you hear them speak. (unknown)
---
Last edited by DZAUTO; Jun 29th, 10 at

2:22 PM

.
Lifetime Premium Member
Bruce
Join Date: Nov 2002
Location: Glendale, AZ
Posts: 2,951
Re: Differences Between 291, 461 and 462 Heads
---
Quote:
Originally Posted by
Lionel-n-Chevelles
View Post
Are the 462 and 291 Castings Identical?
I know that the 291s have a provision for the Temperature Sending Unit. Does the 462 Casting have the same provision?
The 291 heads were 1968 only. That was the first year that the temperature sensor was located in the head. 1969 still had double humps but added the drilled holes and flat mounting surfaces for the 69 and later brackets.
Prior to 1968 the temperature sensor was in the intake manifold, so the heads did not have that feature like in 68 and later.
The 461X heads did not have the big valves. The 2.02 intake and 1.60 exhuast valves were first used in the 1964 model year and the head casting was apparently revised to accomodate the bigger valves.
Per Chevrolet by the Numbers, QUOTE After "G" of 1963, a "64" is cast above the casting numbers to differentiate between the early '461x casting and the '461 casting. UNQUOTE G = July.
Apparently, just removing the Xs wasn't considered to be sufficient to differentiate the revised 461s. The Xs aren't that visible, so the '64' was added.
Remember that the '461X heads were used in 1961, 1962 and 1963 with valve sizes 1.94/1.50 only. The revised 461 heads were available starting in 1964 models with either 1.94/1.50 or 2.02/1.60 valves, depending on application.
The later 461 or 462 heads would be my choice for a nostalgic look and high performance. Either buy a set with the bigger valves or add them. The 291s would be OK but would have the tell tale plugs for the temp sensor.
Also, here is a link to a photo at Super Chevy that shows the X on a 461X head. The heads on my 62 fuely look the same as this photo.
http://image.superchevy.com/f/techni...ne_rebuild.jpg
__________________
---
66 El Camino 396/325HP 4-Spd
My Build Thread:
http://www.chevelles.com/forums/43-e...el-camino.html
62 Corvette 327/360HP (original RF engine and Fuel Injection) (future restoration project)
66 Corvair (
Kelmark mid-engine conversion
) (project, basic conversion complete, needs restoration)
66 Corvair (#2). My son's project. Small block, Powerglide, C5 differential and rear suspension
72 Chevelle wagon project
---
Last edited by AZCamino; Jun 29th, 10 at

4:48 PM

.
Senior Tech Team
Tom
Join Date: Sep 1998
Location: Mustang, OK USA
Posts: 11,509
Re: Differences Between 291, 461 and 462 Heads
---
Here's closer pictures of the X. This is a 63 casting.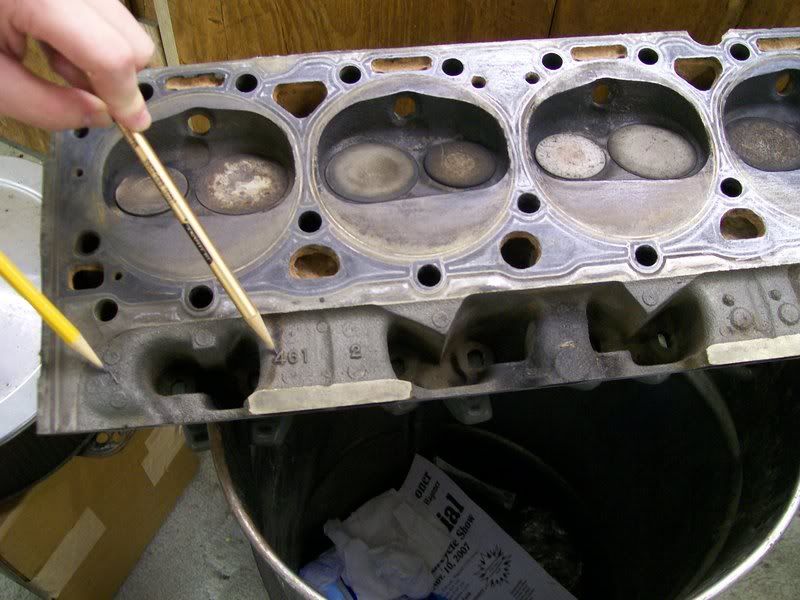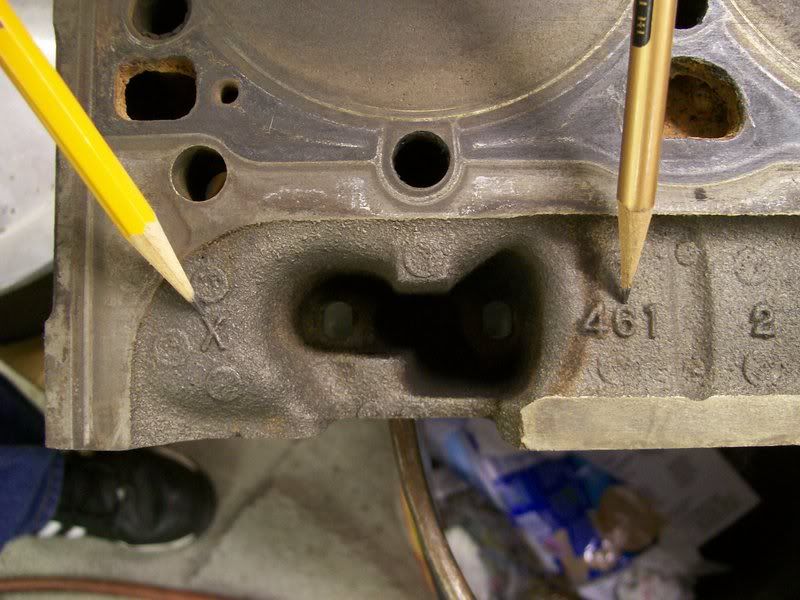 Also, not mentioned, but since we're on the subject, heads that originally had the 1.94/1.5 valves had an as-cast combustion chamber. But when the factory machined the castings for the larger 2.02/1.6 valves, they machined a relief adjacent to the intake valve. If you have 1.94 heads upgraded to 2.02, almost any good, knowledgeable machine shop will know how to machine this relief next to the intake valve.
You can see the differences below.
---
Tom Parsons
TC# 474
#3 FOREVER!!!!!
Light travels faster than sound. That is why some people appear to be bright until you hear them speak. (unknown)